Wildlife Justice Commission releases new analysis

The Hague, 29 April 2020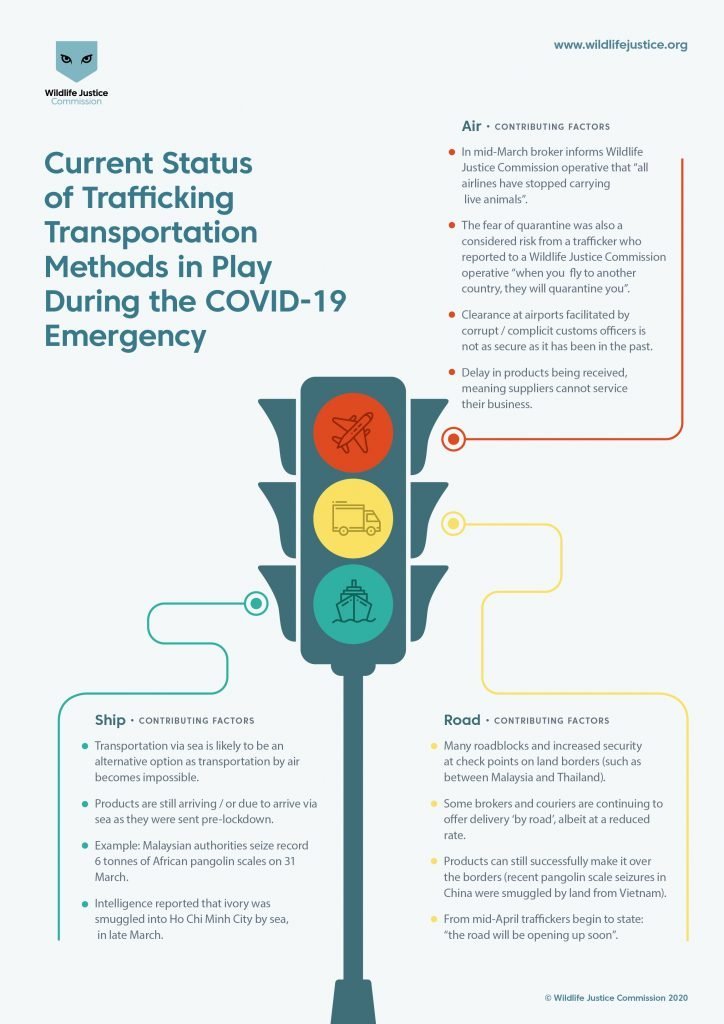 The Wildlife Justice Commission analysis includes an infographic on the current status of trafficking transportation methods in play during the COVID-19 emergency.
The Wildlife Justice Commission's Intelligence Development Unit has analysed the effect that global measures imposed since January 2020 to contain the spread of COVID-19 are having on wildlife trafficking dynamics. The new report concludes that trafficking continues despite restrictions, albeit at a reduced scale, and that high-level criminal networks are adapting to resume operations to previous levels.
Crime analysts at the Wildlife Justice Commission's Intelligence Development Unit have assessed the organisation's findings from the trade between January and April 2020 and the reported seizures made during that period to arrive at state of the art intelligence on the criminal dynamics.
The analysis concludes that COVID-19 prevention measures have affected wildlife trafficking operations. But as crime does not stop, it is likely that the current lull will only be temporary, as wildlife brokers have already made clear that they intend on returning their operations to previous levels as soon as possible.
Read more about and download the WJC analysis
The illegal trade in wildlife products is a major issue in the IES law programme. IES was a constituting partner in the EFFACE project on European Union Action to Fight Environmental Crime in which illegal wildlife trade (IWT) was addressed in a series of research reports including a Study on wildlife crime in the EU and a case study report on the illegal wildlife trade in the United Kingdom, Norway, Colombia and Brazil.