19 June 2020
At least six defenders of the environment have been killed in different Latin American countries since 11 March, the date on which the World Health Organization (WHO) declared the COVID-19 disease a pandemic according to a report by INFOAMAZONIA on 23 April.
Adán Vez Lira, (photo) who has spent two decades caring for the La Mancha wetlands and mangroves, a small coastal community that looks out over the Gulf of Mexico, in the Mexican state of Veracruz, was shot dead on 8 April as he was riding his motorcycle along a country road in the municipality of Actopan according to the Mongabay Latam website and an article in The Guardian which said that Adán Vez Lira was the third environmental activist killed in Mexico this year.
La Mancha, the ecosystem to which Adán dedicated his life and the neighbouring lagoon complex of El Llano, are composed of an area totalling 1,414 hectares of wetlands internationally protected as a Ramsar site under the Convention on Wetlands, known as the Ramsar Convention.
According to an AP story, on 13 April, the U.N. human rights office in Mexico issued a statement condemning the killing of Adán Vez Lira. The office of the High Commissioner for Human Rights said that Adán Vez Lira was a longtime supporter and organizer at the La Mancha bird-watching reserve on the sparsely populated stretch of coast north of the Veracruz state capital. "Adán Vez Lira was a recognized environmental activist whose voice and leadership had played a notable role in several environmental defense causes in Actopan," the office said.
The AP also reported that Adán Vez Lira was at least the third environmentalist killed in Mexico this year, adding that Mexico's National Human Rights Commission said at least two other activists have been killed in 2020. In late March, unidentified gunmen shot to death Isaac Medardo Herrera, a lawyer and activist who defended a rural tract against development near the Mexican city of Cuernavaca.
Herrera had led a fight over at least four years to stop plans to build a housing development on the Los Venados tract, an environmentally sensitive woodland area in Jiutepec, just south of Cuernavaca. The development was halted and the area was supposed to be used as a nature reserve.
The Mexican Center for Environmental Rights reported that 15 land defenders were killed in Mexico in 2019. Morelos, the state where Jiutepec is located, was the third most dangerous for environmental activists in 2019.
INFOAMAZONIA said that at least 86 defenders of the environment were killed since 2012 in Mexico adding that the month following the declaration of the pandemic has been equally lethal for the indigenous people in the countries in the Amazon basin including Brazil, Colombia and Peru.
Twelve Rangers Killed in Congo Park Ambush
Also in Africa environmental defenders are under attack. A New York Times report on 25 April stated that "Twelve rangers were among 17 people killed in Virunga National Park in the Democratic Republic of Congo, officials said, in one of the worst massacres in the park's recent history" adding that hundreds of rangers among the park's dedicated team of 700 rangers have been killed in recent years.
Governments and businesses silence land and environmental defenders
An article published by The Conversation last August reported that "according to records compiled by the campaign group Global Witness, 1,738 people described as environmental defenders were killed between 2002 and 2018, across 50 countries".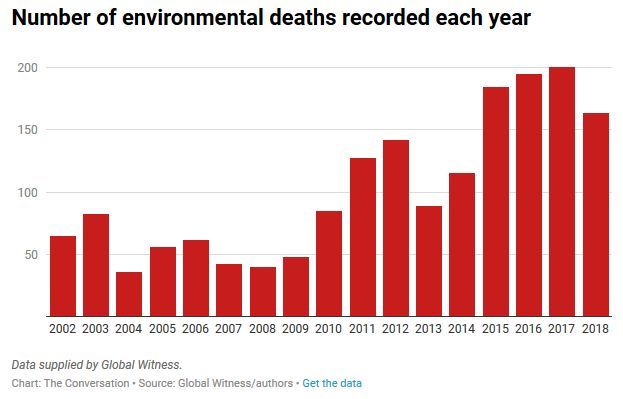 The Global Witness report, Enemies of the State?, published in July 2019 said that "More than three people were murdered each week in 2018, with countless more criminalised, for defending their land and our environment". That report also reveals how countless more people were threatened, arrested or thrown in jail for daring to oppose the governments or companies seeking to profit from their land.
"These are ordinary people trying to protect their homes and livelihoods, and standing up for the health of our planet. Often their land is violently grabbed to produce goods used and consumed across the world every day, from food, to mobile phones, to jewellery", the report said.
Environmental Degradation, Health Risks and Human Rights
At IES, we agree with INFOAMAZONIA that "Many scientists are pointing to a link between habitat transformation and biodiversity loss, caused by road construction, mining or the expansion of the agricultural frontier to produce food, as well as the proliferation of species that can spread zoonotic viruses to humans". David R. Boyd, the United Nations Special Rapporteur for the Environment and an expert in natural resource management was quoted as saying "Scientists warn us that deforestation, industrial agriculture, illegal wildlife trade, climate change and other types of environmental degradation increase the risk of future pandemics, raising the probability of major human rights violations".
IES Chairman Wouter Veening said that "Killing of environmental activists is a focus of our programme on environmental law and governance and we are alarmed at the rampant violence in Africa and Latin America, especially in the Brazilian Amazon where such incidents are on the increase as a result of President Bolsonaro's policy to open up the Amazon for mining, cattle ranching, soybean cultivation and logging".
---