The Great Lakes region in Africa is an area where tribal conflicts mix with the aftermath of the Rwandan genocide, power struggles in the Eastern part of the Democratic Republic of Congo, the control over land and valuable minerals, such as diamonds, tin, gold, coltan and the illegal trade in timber and protected species. The insecurity, caused by the presence of rebels, an ill-disciplined national Congolese army and a large number of displaced people, has dramatic humanitarian consequences.
Furthermore, the demographic situation leads to a continuously growing demand for land, firewood, charcoal and food, resulting in widespread environmental destruction (forest degradation, wildlife poaching, soil erosion, over-fishing and water pollution). This situation poses great dangers to the survival of man and nature in this region and can contribute to social unrest and instability.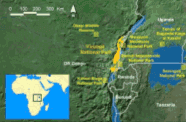 The protection of mountain gorillas in the Virunga-Bwindi region, where Rwanda, Uganda and the Democratic Republic of Congo share their borders, brings the three countries together, by creating employment, income and basic health and education services for the local communities out of tourist revenues, creating incentives for co-operative protection.
The challenge now for these countries is to:
explore and develop clean and safe alternative sources of energy;
complement traditional forms of livelihood with sustainable alternatives;
raise park management to the next level by establishing transboundary collaboration at the higher levels of administration in the 3 countries;
provide equal opportunities to all;
install basic facilities in communities, for instance, access to water, sanitation, health care, schools and electricity.
These countries have signed and ratified all the major environmental related conventions and they have recognized the crucial role environmental conservation plays in the rest of the economy and the improvement of civil society. What the countries need first is that potential and current donors also recognize the importance of long term environmental conservation and start funding those needs.