EFFACE Project Publishes Policy Briefs
---
Focus is on criminal justice system and organised environmental crime
Berlin, 11 November 2014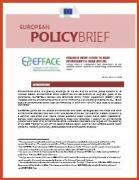 The EFFACE project (European Union Action to Fight Environmental Crime) has published its first two Policy Briefs on environmental crime. The Briefs provide examples and insights on the need for a coordinated EU approach to reduce the broad impacts of crimes against the environment. IES is a partner in the EFFACE project.
Policy Brief 1, "Limitations and challenges of the criminal justice system in addressing environmental crime", examines how environmental crime is a growing challenge for the EU and the criminal justice systems of its Member States. Considerable disparities exist between the criminal justice systems of Member States in combatting environmental crimes such as illegal waste disposal and animal trafficking.
Policy Brief 2, "Organised environmental crime: The need for combating environmental crime as a serious and organised category of offense," calls for greater EU priority in combating environmental crime as a growing threat to human health and good governance. Criminal actors are often trans-national and sophisticated, and other serious crimes are committed in activities of illegal fishing and illegal logging.
Policy Brief 1: Criminal justice system and environmental crime | Policy Brief 2: Organised environmental crime