Objectives of the Meeting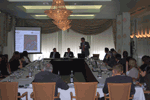 On 20 April 2010 the Institute for Environmental Security, in collaboration with the T.M.C. Asser Institute for Private and Public International Law, organised a workshop on "The Hague Environmental Law Facility (HELF)" .
The purpose of the workshop was to highlight the importance of remote sensing in the monitoring of compliance and enforcement of international environmental law.
To illustrate the relevance of remote sensing, the case of illegal shipments of hazardous waste from the EU has been used, with presentations by the European Environmental Agency and an update on the development of the implementation and compliance of the EU Waste shipment regulation by the IMPEL Network. A main feature of the workshop has been the pioneering research of the University College of London on satellite monitoring of environmental treaties and law in general and its application to the case of hazardous waste in particular.
Related Project
The HELF Project investigates the usefulness and necessity of a facility in the field of environmental law in The Hague. This facility would have an advisory function with regards to facilitating access to justice and an auxiliary training function aimed at improving the knowledge and skills of civil servants, diplomats and negotiators on issues of implementation, enforcement and compliance.