The Hague Conference on
Environment, Security and Sustainable Development
The Peace Palace, The Hague, The Netherlands
9 - 12 May 2004
Introduction and Background to the Conference
In the 1990s experts predicted that environmental cha

nge was to be the security concern of the 21st Century. Today, however, competing crises brought on by terrorism, infectious diseases and economic instability are at the top of the security agenda. Is environment still a security concern? How does a focus on environmental security help us in coming up with practical solutions for making the world a safer place and development initiatives more sustainable?
How do the various international environmental conventions relate to environmental security?
Are new approaches to governance needed? Or is it 'just' a matter of better implementing the existing ones?
Can new and innovative financial mechanisms and payment systems for environmental goods and services promote global environmental security?
How can education, training and awareness building programmes contribute to meeting emerging environmental security challenges?
These and other issues were the focus of a comprehensive international Conference on Environment, Security and Sustainable Development attended by senior decision makers and representatives from governments, non governmental organisations, development institutions, the private sector, and academia, at the Peace Palace in The Hague, 9-12 May 2004.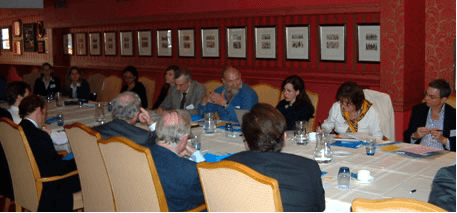 The Conference Organising Committee meeting prior to the opening on 9 May 2004
Conference Objectives
The ultimate objective of the conference and its follow-up is to promote more sustainable relationships between people, their environment and the natural resources they depend on for their well-being on the basis of precaution, equity, efficiency and choice. This will require building understanding of the relationship between environment and security, and how this relationship affects sustainable development.
The short-term objectives, intended to be met by the conference included:
To define integrated science-based, diplomatic, legal, financial and educational approaches for increasing environmental security for all, as a basis for sustainable development;
To demonstrate the need for and motivate policy changes among governments, international organisations, environment and conservation organisations, the military and security community, development organisations and donor agencies, and the private sector;
To bring together key actors in this field and forge new partnerships among them; and,
To define the framework for a multi-sector initiative by the international community to identify and implement cost-effective tools for enhancing environmental security, thereby reducing the growing human and economic costs of humanitarian crises.
Conference Results and Follow Up
The conference concluded with the presentation of a Chairman's Summary called "Pathways to Environmental Security" (PDF 286KB) incorporating action points related to each of the above objectives along with 86 specific recommendations directed to forthcoming EU Presidencies and others. The recommendations were both policy oriented and practical, including guidelines for addressing environment and security issues in the field.
Participants from the conference and other interested individuals and organisations are invited to take part in promoting the implementation of The Hague Conference recommendations.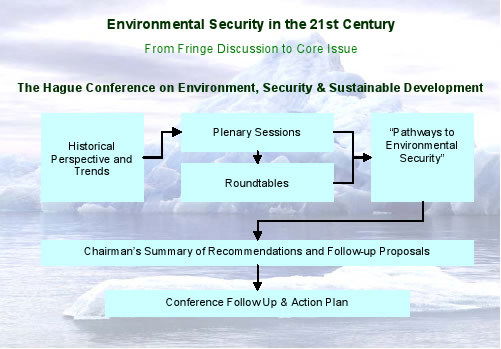 Proceedings
Ronald A. Kingham
Conference Coordinator
Jeannette E. Mullaart
Assistant Coordinator