Book Launch
Globalization and Environmental Challenges: Reconceptualizing Security in the 21st Century
Hosted by 'The Centre', Brussels
16:30-18:00, 14 July 2008
On 14 July 2008, the IES co-organised this book launch together with
EGMONT - Royal Society for International Relations, and the EastWest Institute.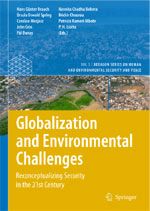 Globalization and Environmental Challenges pose new security dangers and concerns. In this book, 92 authors from 5 continents assess the global reconceptualization of security triggered by the end of the Cold War, globalization and global environmental change in the early 21st century.
Seventy five chapters address the theoretical, philosophical, ethical and religious and spatial context of security; discuss the relationship between security, peace, development and environment; review the re-conceptualization of security in philosophy, international law, economics and political science and for the political, military, economic, social and environmental security dimension and the adaptation of the institutional security concepts of the UN, EU and NATO; analyze the reconceptualization of regional security and draw conclusions for future research and action.
Speakers:
Simon O'Connor, The Centre
Ambassador Ortwin Hennig, Vice President / Head of the Conflict Prevention Program, EastWest Institute
PD Dr. Hans Günter Brauch, FU Berlin / UNU-EHS, Bonn / AFES-PRESS, Germany
Prof. Dr. Ursula Oswald Spring, UNAM-CRIM, Cuernavaca, Morelos, Mexico / Munich Re Chair, UNU-EHS, Bonn / Minister of Environment (1994-1998) in Morelos, Mexico
Tom Spencer, Vice Chairman, Institute for Environmental Security / Former President, GLOBE International / Former MEP and Former President, EP Committee on Foreign Affairs, Security and Defence Policy (1997-99)
Prof. Dr.Sven Biscop, Senior Research Fellow, EGMONT - Royal Institute for International Relations
Click here for a highlights of the presentations.
Click here for more information about the book.