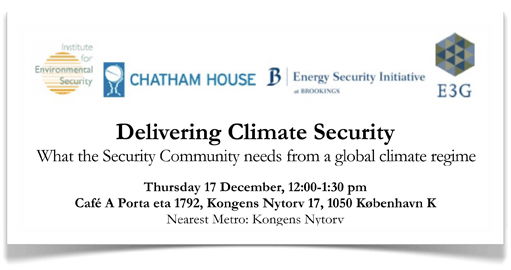 On 17 December, the Institute for Environmental Security took part to a side event entitled "Delivering climate security: What the Security Community needs from a global climate regime".
The event, organised by E3G in partnership with IES, Chatham House and the Energy Security Initiative of Brookings, sought to explore climate change impacts on national security and how the global climate regime can address this threat.
The panel of experts was composed of:
Chair: Tom Spencer, Vice-Chairman, Institute for Environmental Security / Project Co-ordinator, Climate Change & the Military
Nick Mabey, CEO and Founding Director, E3G
Cleo Paskal, Associate Fellow, Chatham House
Alexandros Papaioannou, Policy Adviser, Policy Planning Unit, NATO
Major General (ret) Muniruzzaman, President, Bangladesh Institute for Peace and Security Studies
Brigadier General (ret) Wendell Chris King, Dean of Academics, U.S. Army Command and General Staff College
The panel introduced some of the most innovative and interesting work being done by the security community into the climate change discussions, and promoted a discussion of "climate security" in a way that has a focus on broad - and non-military - security concepts (e.g. human security) in an open, honest and pluralistic debate between these policy communities.
Download here the invitation (pdf) - More information on the Climate Change and the Military Project - Download here the presentations: