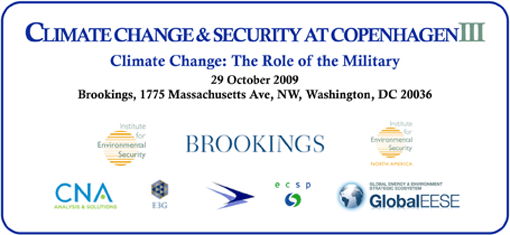 On 29 October in Washington, D.C., the Institute for Environmental Security organised the third event of the series entitled "Climate Change & Security at Copenhagen".
The effects of climate change and its implications on national and international security are increasingly getting integrated into the global debate. The objective of this conference was to deepen the discussion on the relation between climate change and the role of the military and to highlight the perspective of the world's armed forces in the dialogue about impending security threats, focusing especially on the areas of Afghanistan and on glacial melt at the Third Pole.
The conference, attended by more than 120 people, has been a core development in the Climate Change and the Military project and witnessed the official release of the Military Advisory Council's First Statement. This document has been endorsed by senior officers from India, Bangladesh, Nepal, Mauritania, The Netherlands, Guyana, the United Kingdom and the USA, and seeks out negotiators in Copenhagen as well as national governments.
The conference, hosted by Brookings, was organised by IES and IES - North America in partnership with CNA, E3G, the Environmental Change and Security Programme (ECSP) of the Woodrow Wilson International Center for Scholars, the Centre for Air Power Studies, the Bangladesh Institute for Peace and Security Studies and Global EESE. The event is part of the IES Programme on Climate Change and International Security (CCIS).
Material and Presentations
Listen to the full event on Brookings website

X

Presentations:
Previous Events
1. Climate Change & Security at Copenhagen: New Thinking on the Atlantic Contribution to Success, Washington, D.C., 17 March 2009
2. Climate Change & Security at Copenhagen II: The Contribution of the Global Security Community to Success, Brussels, 7 - 8 October 2009