ACCES Briefing, 8 April 2011, Brussels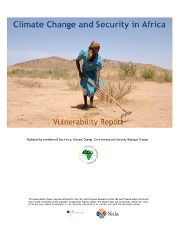 On 8 April 2011 the IES and The Centre in Brussels hosted a presentation of the recent publication "Climate Change and Security in Africa: Vulnerability Report".
The report recognises that the security implications of climate change are of increasing relevance to peace and human security. In Africa - where adaptation mechanisms may be limited or uncoordinated – many communities are especially vulnerable to insecurity related to water, food, energy, migration and natural hazards.
The document contains the results of research carried out in 2010 by several organisations participating in the Africa, Climate Change, Environment and Security Dialogue Process including the United Nations Environment Programme (UNEP), and the United National Food and Agriculture Organisation (FAO), the United Nations Industrial Development Organization (UNIDO), the International Organization for Migration (IOM), the Global Water Institute (GWI), the Institute for Environmental Security (IES), Kulima Integrated Development Solutions, Madariaga—College of Europe Foundation, and the Peacebuilding and Crisis Prevention section of the Federal Foreign Office in Germany.
Also available below is the report of the "ACCES Dialogue Forum on Climate Change and Security in Africa" held in Addis Ababa on 11 October 2010 as a pre-event to the 7th African Development Forum arranged by the UN Economic Commission for Africa, the African Union Commission, and the African Development Bank.
Further information: