Washington D.C., 14 February 2023
In a feature article published by today by the World Resources Institute the authors explain How Floods in Pakistan Threaten Global Security.
According to the article, "In Pakistan, torrential rains and flooding in August 2022 impacted an estimated 33 million people and caused more than $40 billion in economic damages. The catastrophic flooding left 1,700 people dead, 2 million homes destroyed and killed over 900,000 livestock. Parts of the country saw five to six times the normal amount of rainfall.
The country is now experiencing mass displacement, food insecurity, loss of livelihoods and an increased risk of waterborne disease, drowning and malnutrition. Six months later, flood waters have still not fully receded, and as of early January 2023, 5 million people are still living very close to, or exposed to, floodwaters".
The article informs us in explicit detail (with interactive maps and infographics from WRI's Resource Watch: Monitoring the Planet's Pulse) why floods are a growing threat in Pakistan, how flooding and other water risks create instability, how instability threatens national security and how decreasing water stress can boost Pakistan's stability.
The authors conclude with five specific recommendations on preparing for future floods saying that "The Pakistani government should work to build back better and invest in adaptation, resilience and long-term infrastructure. Adaptation and resilience initiatives include rebuilding outside of flood zones and strengthening early warning systems and planning", adding that "However, one of the most important reforms lies beyond Pakistan. Industrial nations must severely cut greenhouse gas emissions to protect Pakistan and other vulnerable nations and communities from the catastrophic effects of climate change. That includes Pakistan's most important partners and allies, China, the United States and Russia and Pakistan should consider using whatever leverage it has with these countries to push for reductions in emissions".
>> Read the full article
"How Floods in Pakistan Threaten Global Security", By Sharon Burke, Liz Saccoccia, Susanne Schmeier, Mohd Faizee and Marlena Chertock, Insights, World Resources Institute, 14 February 2023
---
Ed: See the related IES publication "Climate Change and Security in South Asia: Cooperation for Peace" in which the authors explain how climate change could destabilise the South Asian region, unless steps are taken to address the threat posed by a warming, resource-scarce world.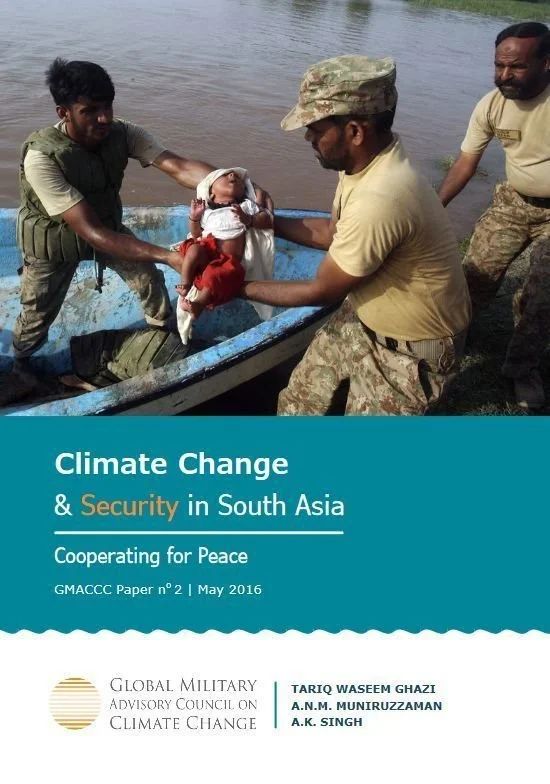 The report by Lt. General Tariq Waseem Ghazi (Ret.) of Pakistan, Maj. General A.N.M. Muniruzzaman (Ret.) of Bangladesh, and Air Marshall A.K. Singh (Ret.) of India recommends that the region's leaders strengthen cooperation to reduce the potential for widespread human suffering and further instability.
---