Communities in the Arctic are facing the challenge of unprecedented environmental change. According to the Arctic Council, "[t]he evidence of global warming is in no place more obvious than in the Arctic region. The Arctic has warmed rapidly during the last four decades. The magnitude of temperature increase in the Arctic is twice as large as the global increase." The US National Snow and Ice Data Centre this year recorded the fourth lowest extent of sea ice in satellite record, evidence that "reinforces the long-term downward trend in Arctic ice extent"*. As the Arctic warms, landscapes and ecosystems are being transformed, bringing new risks to human safety and security.
On 8 December 2010 the Institute for Environmental Security, in collaboration with the European Space Agency, organised a workshop on 'The Future of Space Cooperation in the Arctic Region'.

The event, held at the European Space Agency Headquarters in Paris, aimed to promote the dialogue on environmental security in the Arctic region and had the following specific objectives:
To provide an opportunity for experts from ESA Member States to exchange information and ideas on possible space systems (earth observation and remote sensing, communications and navigation) which can address the challenges in the Arctic in the future.
To bring together policy makers and scientists for a multidisciplinary discussion on the environmental security challenges affecting the Arctic region - environment, climate change and the sustainable use of natural resources and promote new partnerships and cooperation.
To provide information to interested ESA Member States on the forthcoming European Parliament report on sustainable EU policy for the High North and the preparations for the European Commission's June 2011 report to the Council of the European Union and the European Parliament on the European Union and the Arctic.
>> Read more about the workshop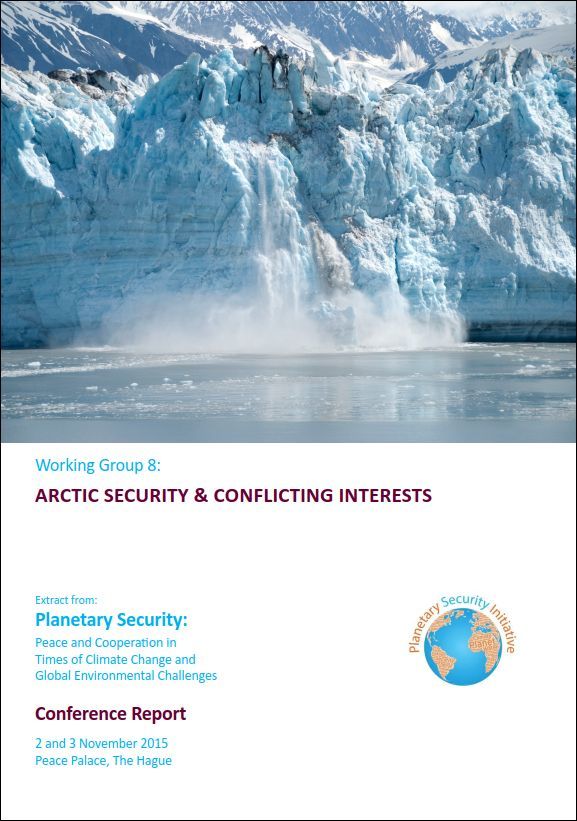 IES assisted in the organisation of the first Planetary Security Conference: Peace and Cooperation in Times of Climate Change and Global Environmental Challenges held at the Peace Palace in The Hague on 2-3 November 2015. Organised by the Ministry of Foreign Affairs of the Kingdom of the Netherlands, it brought together practitioners and experts from the defense, aid, and foreign policy community to discuss the impact of climate change and other global environmental challenges on security.
Among the 12 Working Groups in the conference co-organised by IES was Working Group 8: Arctic Security & Conflicting Interests
As the world's attention turns to the rapidly changing Arctic, new interests are projected into an already complex landscape. This group discussed how the interactions of these multiple interests challenge conventional concepts and approaches to security.
>> Read the full Arctic Working Group Report including the conclusions and recommendations.
Study the map especially produced for the Arctic Working Group: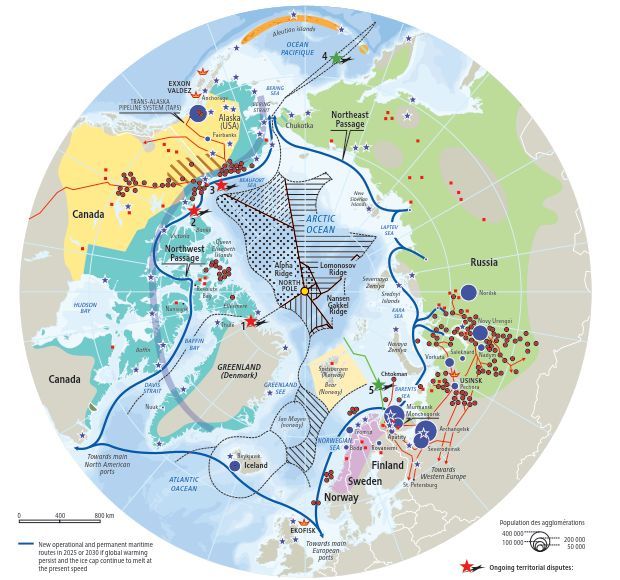 ___
* National Snow & Ice Data Center (NSIDC), 'Arctic sea ice news and analysis' (2015) http://nsidc.org/arcticseaicenews/2015/10/2015-melt-season-in-review as quoted in WORKING GROUP 8: ARCTIC SECURITY AND CONFLICTING INTERESTS in Planetary Security: Peace and Cooperation in Times of Climate Change and Global Environmental Challenges: Conference Report / 2-3 November 2015, Shirleen Chin and Ronald A. Kingham (Editors), Ministry of Foreign Affairs of the Netherlands, The Hague, January 2016